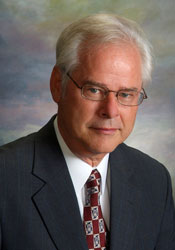 A Personal Note from MoDocs President
Martin M. Bauman
Dear Missouri Doctor;
Selecting the right attorney to represent you can be difficult.  Making that selection under the threat of lawsuit is even more onerous. MoDocs has diligently sought the best attorneys in the state to represent our doctors.  As a result, we have chosen law firms who represent you in the courtroom while being cognizant of your personal needs.  These are truly exceptional attorneys. As president of MoDocs, I personally pledge that you'll be unconditionally satisfied with the defense of your claim or MoDocs will give you your money back. If you're interested in knowing more about MoDocs, simply contact us.
Respectfully yours,

Martin M. Bauman
Click below to watch a short 3 min video about MoDocs Attorneys and what they do for Missouri Doctors.
The Attorneys We Trust
Bauman Law Firm   –  Randall Bauman • Daniel Mannion
PO Box 600
Chesterfield, MO 63006
Mr. Bauman is the founding member of Bauman Law Firm, PC.  He focuses on providing guidance to physicians on risk management issues and frequently represents physicians in medical negligence cases and disciplinary proceedings before licensure boards.
Eckenrode • Maupin – J. Thaddeus Eckenrode
Tad is a litigator with almost 30 years of experience, and has taken more than 70 complex trials to verdict, winning nearly 90% of those cases, including cases pending in the famous "judicial hellhole" of Madison County, Illinois. Many of the cases he has taken to trial have involved damage claims that exceeded $1 million. Tad's practice focus is on the defense of medical malpractice, product liability and other tort claims, usually on behalf of defendants and/or their insurance carriers, but he has also been involved in litigation related to business and contract disputes. He has also handled numerous administrative actions on behalf of licensed professionals, including several that have gone to hearings and appeals.
Several of Mr. Eckenrode's successful verdicts were listed as "Top Defense Verdicts" in a listing published annually in Missouri, and he ranked 4th in the state in 2010 for the number of defense verdicts obtained. Besides his trial work, Tad also has handled numerous appellate matters, including a successful defense to an attack on Missouri's "tort reform" statute in the Klotz v. Shapiro case in 2010. He also works with clients on the drafting and negotiation of business and other contracts, and represents individuals with specific legal matters.
Mr. Eckenrode has been voted a Missouri-Kansas "SuperLawyer" for 3 years in a row, which is an honor reserved for the top 5% of attorneys in the state, as determined by a vote of other lawyers. He also has maintained an "AV" (highest) rating with Martindale-Hubbell for over 15 years. Tad has also served as a speaker at both bar and other professional seminars, has published several articles on topics related to trial practice, and is an active member of the Missouri Organization of Defense Lawyers (MODL), Defense Research Institute (DRI), Claims and Litigation Alliance (CLM), and the bar associations of Missouri, Illinois, metropolitan St. Louis (BAMSL) and the American Bar Association (ABA).
Koerner Law Firm  –  Wendell Koerner
601 Francis St. Suite C
St. Joseph, MO 64501
Mr. Koerner is a Fellow of the American College of Trial Lawyers, Member of the Defense Research Institute, International Association of Defense Counsel, American Board of Trial Advocates and Missouri Organization of Defense Lawyers.  He is a Past President of MODL and received its Defense Lawyer of the Year in 2006, and is a past recipient of the Missouri Bar Foundation's Lon Hocker Trial Lawyer Award.  He has been defending doctors and hospitals in professional liability cases for more than 30 years.