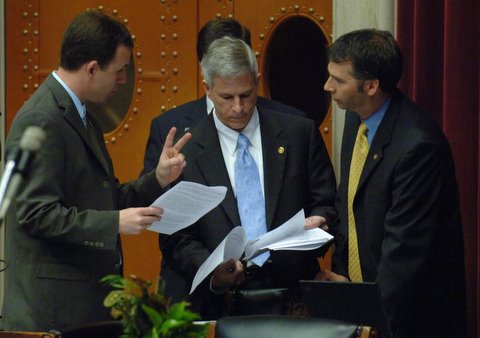 On The Hill
Board Member Dr. Robert Schaaf with encouragement and support of MoDocs has been working in the Missouri legislature to promote legislation that is beneficial to Missouri doctors and their patients. The following is a partial list of bills supported by Dr. Schaaf:
In 2005, Dr. Schaaf cosponsored the comprehensive tort reform bill that gave significant relief to physicians from frivolous lawsuits.
After the Missouri Supreme Court invalidated the cap on non-economic damages passed in HB 393, Dr. Schaaf supported SB 589, restoring the cap.  Unfortunately, the bill failed to pass, but efforts to restore the cap will continue.
Dr. Schaaf has introduced Any Willing Provider legislation during several sessions.  AWP would allow physicians to participate in health plans as long as they would be willing to accept the standard fee and meet credentialing criteria.
Economic Credentialing has kept many physicians from being able to practice freely at their local hospitals.  Dr. Schaaf has introduced bills that would prohibit the practice, and will continue to fight against economic credentialing.