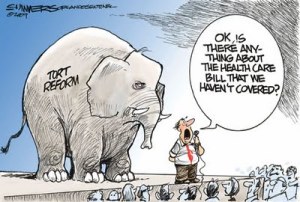 Tort reform in Missouri has taken 2 very distinct sides.  Below is an article by Sarah Okeson viewing the victims rights side of tort reform in Missouri.  In next months news we will be featuring the Doctors perspective.  At MoDocs we obviously support a cap on non-economic damages through tort reform in Missouri but want our website readership to be well informed and able to see both sides of the problem.  This is not an issue that will be solved overnight and MoDocs firmly believes that the true solution to the problem lies in continuing medical education through Risk Management.
Naython Watts, now 5 years old, was born with catastrophic brain injuries at Cox South in November 2006 from what a Greene County jury later ruled was medical negligence. He will never be able to walk and has trouble feeding himself.

The legal term for losses such as the pain and suffering Naython will experience during his life is "non-economic damages." In 2005, then-Gov. Matt Blunt signed a law that limited such damages in medical malpractice cases in Missouri to $350,000 as part of what was billed as tort reform.

The Missouri Supreme Court on Tuesday threw out that limit in a case about Naython and the care his mother received while she was pregnant. The 4-3 ruling could affect patients statewide who are harmed by medical negligence and their families. It will not apply to cases where the patients die, which are still subject to caps imposed by the legislature.

"It has an impact on people in the state of Missouri and maybe beyond the state of Missouri," said attorney Roger Johnson of Joplin, who represented Naython and his mother.

Johnson said the ruling allows future plaintiffs "to seek justice instead of seeing their claims gutted. "There are a lot of other people who are like Naython Watts out there who will also share the benefit."

Blunt said Tuesday in a statement that the ruling "will harm hospitals, doctors, nurses and patients and sends the wrong message to potential job creators about Missouri's legal climate."

Stacy Fender, a spokeswoman for CoxHealth, said nearly every physician and every hospital in the state will be adversely affected by the ruling.

"In the early 2000s, when Missouri had no cap on non-economic damages in tort lawsuits, physician insurance rates doubled and the state lost 225 physicians to other states and early retirements," Fender said. "In this era of health reform, when we expect a higher demand for physician services, this ruling will again encourage physicians to leave the state and further limit Missourians' access to health care."

The case revolved around the care that Naython's mother, Deborah Watts of Mount Vernon, received while she was pregnant. On Oct. 30, 2006, Watts went to a clinic affiliated with Cox when she was 39 weeks pregnant because the baby wasn't moving as much and she was having cramping. The third-year medical resident who examined her, Dr. Melissa Hermann, didn't perform the appropriate tests and didn't tell Watts about the significance of decreased fetal movement, according to evidence at the trial. 

Watts was admitted to Cox South on Nov. 1, 2006, because of lack of fetal movement. Her son was born by Caesarean section later that morning.

In 2011, Watts was awarded $4.8 million by a Greene County jury — $1.45 million of that in non-economic damages. Under the 2005 law, the non-economic damages part of the award was reduced to $350,000.

Chief Justice Richard Teitelman wrote that Watts had the right to a trial by jury in the case, rights that stretched back to the 1820 Missouri constitution and common law that governed people before that. That right would include a jury's deciding how much the damages would be.

"The plaintiff has the full benefit of that right free from the reach of hostile legislation," Teitelman wrote.

Missouri had a less restrictive cap on non-economic damages before the 2005 law. That cap, which was adjusted for inflation, had been at $579,000. The decision Tuesday also overturned the 1992 state Supreme Court decision that was the basis for the previous cap.

"There are no more caps today," Johnson said.

In a dissenting opinion, Justice Mary Russell wrote that the 1992 case, Adams v. Children's Mercy Hospital, determines that the caps don't violate Missouri's constitutional rights to a jury trial.

"The majority opinion reflects a wholesale departure from the unequivocal law of this state and leaps into a new era of law," she wrote.

Tom Holloway, the executive vice president of the Missouri State Medical Association, predicted the ruling will lead to what he called a "lawsuit crisis."

Holloway said doctors could be reluctant to perform some procedures and could even leave the state. He wants the General Assembly enact new legislation on caps because of the high court's ruling.

"We're going to see runaway litigation," Holloway said.

Brad Bradshaw, a Springfield attorney who was not involved in the Watts case, said the ruling will make it easier for injured people and their relatives to sue.

"It's not fair to give hospitals and insurance companies a free pass when a health care provider negligently harms somebody which is what this law has been doing," Bradshaw said.

In 2011, nearly 30 states had laws that limited damages in medical liability cases, according to the American Medical Association. In at least 16 states, courts have upheld the constitutionality of non-economic or total damages. In at least 11 other states, the courts overturned caps.

A brief filed by law professors in support of Watts said caps on non-economic damages disproportionately affects groups such as women and children. The professors wrote that the number of doctors treating patients in Missouri has steadily increased, even during periods of so-called crisis.

[Okeson, Sarah. "Missouri Supreme Court Overturns 2005 Cap on Liability Lawsuits." News-Leader. News-Leader.com, 1 Aug. 2012. Web. 17 July. 2014.]
At any time feel free to contact MoDocs Here, call us at 816.901.9950 or fill out the Rapid Quote form at the bottom of this or any page to discuss how we can help reduce your Medical Malpractice Insurance Costs.
"Giving Missouri Doctors the Peace of Mind to do What Doctors do Best." ℠