MoDocs elects James F. Conant, M.D. as Chairman of the Board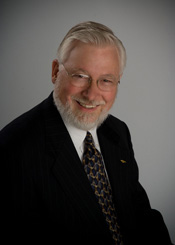 Saint Joseph, MO – May 1, 2017.  James F. Conant, M.D. has been elected Chairman of the Board of Directors of MoDocs, a leading medical malpractice insurance company with offices in Saint Joseph and Chesterfield.  MoDocs is doctor owned and serves over 600 physicians statewide.
During the Annual Meeting of its members, Dr. Conant was re-elected to his board position. Subsequently, during the Board Meeting, Dr. Conant was elected to serve as the Chairman of the Board of Directors.
Dr. Conant's distinguished career spans over three decades of service, including many leadership roles in local and state medical organizations and hospitals. Dr. Conant is a Fellow of the AAFP. Currently he is a member of the MSMA, the AAFP and is a delegate from the State of Missouri to the AMA. He was the President and Chief of Staff of Jefferson Memorial Hospital in 1982-1983.  He formerly served as the MSMA Hospital/Medical Staff Section Representative from Heartland Health. He also served as the Vice-Councilor of Organized Medical Staff Section for the MSMA from 2001-2010. Dr. Conant served as President of Health Choice of Northwest Missouri. As a supporter of continuing medical education, he has served as Associate Councilor from Missouri to the SMA for many years and as Councilor for Missouri from 2011-2015. He served as President of the Buchanan County Medical Society in 1995 and served on the Physicians' Advisory Committee for the Missouri Department of Social Services Division of Aging. He also served in the US Army in Korea.
Dr. Conant received a Bachelor's degree in Natural Science with an emphasis in Biology from Missouri Western State University in 1971. His Doctor of Medicine was conferred in 1975 at the University of Missouri – Columbia and his internship at St. John's Mercy Medical Center in St. Louis was completed in 1976. Dr. Conant was honored as a Distinguished Alumnus from Missouri Western State University. He has been the recipient of numerous educational and professional awards and honors.
Dr. Conant and his wife Marsha are natives of St. Joseph, Missouri where they currently reside. Mrs. Conant was recently inducted as President of the MSMA Alliance.  They are the parents of 4 adult children: James II, Elizabeth, Marjorie and Eleanore.  They also have 2 new grandchildren.  Dr. and Mrs. Conant are actively involved in the local community and participate in numerous charitable endeavors.